Cara Memindahkan Isi Blog WordPress ke Blog Blogspot
By Romeltea | Published: March 14, 2022
Ganti platform blog dari
Wordpres
dan
Blogger
atau sebaliknya disebut "migrasi". Berikut ini cara memindahkan isi, konten, atau postingan blog dari WordPress ke blog di Blogger (Blogspot).
Banyak alasan pindah platform blog dari WordPress ke Blogger. Alasan utama biasanya keamanan data konten blog. Di Blogger, kita hosting gratis milik Google. Data aman selama blog tidak kita hapus.
Cara Memindahkan Isi Blog WordPress ke Blog Blogspot
Cara memindahkan tulisan atau isi blog WordPress (WP) ke Blogger (Blogspot) sangat mudah.
Dulu saya bisa manfaatkan aplikasi atau halaman Wordpress to Blogger Converter untuk konvert file xml Wordpress ke Blogger. Belakangan error terus atau tampaknya sudah tidak berfungsi.
Kita bisa pake plugin sebagai alternatif. Untuk blog gratis di wordpres.com, harus upgrade dulu biar bisa pasang plugin ini. Untuk blog selfhosted WP, tinggal pasang aja.
1. Pasang dan aktifkan plugin
Export to Blogger
With this WordPress plugin, you can easily export WordPress data to Blogger(Blogspot). No need to use software and convert by yourself anymore! This plugin exports dedicated xml files directly, so what you need is just import it to Blogger.

2. Klik Setting di plugin Export to Blogger

Pilih type postingan > Post
Pilih status > Any
Centang Select category to export
3. Klik
Export XML
4. Akan terdownload file berekstensi .xml
Cara Upload ke Blogger
Login ke akun Blogger Anda. Pilih blog yang akan diisi konten dari WP dan lakukan
Import Content Blogger
.
1. Klik
Setting
2. Scroll ke bawah hingga
Manage Blog
(Kelola Blog)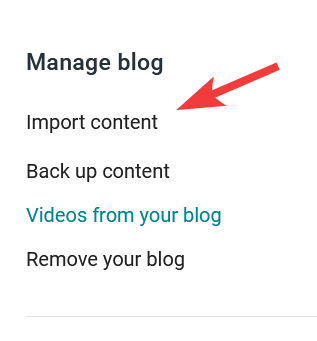 3. Klik Import content
4. Centang I'm not a robot

5. Pilih publikasi otomatis atau jadi draft
6. Klik Import > pilih file xml yang didownload tadi.


Tunggu 1-2 menit, refresh halaman dashboard blogger Anda. Postingan atau konten blog WP Anda kini sudah ada di Blogger. Selamat!


Demikian Cara Memindahkan Isi Blog WordPress ke Blog Blogspot. Jikapun tidak migrasi, cara ini untuk mengamankan postingan blog Anda atau menyimpannya dengan aman di Blogger.*
Tags : Blogger, Blogging, Wordpress
Recommended Posts